Our FRP Stair Tread Families Include
Molded FRP Stair Treads
Our molded FRP stair treads offer great value and durability. Our manufacturing process is fast and reliable and creates a stair tread that can resist even extreme use. We start with a large 120" panel that can be easily cut down to your required stair width. This gives you flexibility for your installation and allows you to adapt our product to your needs.
---
Pultruded FRP Stair Treads
For increased strength when you require wider stairs, our pultruded FRP is the way to go. Our pultrusion process gives us an extremely strong and flex-resistant stair tread that can hold up to 500 pounds and give years of reliable service. We can apply different surface finish grains and designs to provide the grip and adherence you need for your application, including outdoors and wet locations.
---
FRP Stair Tread Covers
Another option for stair treads is to choose our FRP covers. These can be applied over a variety of existing stair designs allowing you to lower the cost of your stair upgrades. Our stair covers come in lengths of 120" and can be cut down using simple hand tools to the right dimensions. We save you time and money with our flexible stair tread cover solutions.
FRP-covered stair treads: If your structure is sound, upgrading your stair panels may be all it takes to upgrade your stairs. We offer a range of fiberglass grating stair treads that can replace your existing treads. Choose from common 6", 8", and 10" stair depths in standard lengths that can be cut down to your requirements. We can help you determine if our FRP-covered stair treads are suitable for your staircase.
Custom Solutions When You Need Them
Marco Specialty Steel has a large range of FRP stair treads and stair products that cover most industrial needs and are available in many standard shapes and sizes. If you have a unique requirement, let us know. We'll work to create the right dimensions and characteristics for your application. Our stair tread products can resist heavy loads, moisture, dirt, temperature extremes, and chemicals.
Upload your drawings and blueprints to our site today and we'll get started right away applying our experience in FRP stair products to your industrial application.
Custom FRP Stair Treads for Crossover Platform Solutions
Fiberglass Grating Stair Treads are a great solution for your crossover platform. FRP is a safe solution for crossover work platforms due to its slip-resistant surface. It is also non-conductive and corrosion resistant which is paramount for crossovers. Marco Specialty Steel's expert fabricators are ready to custom make crossover platforms from our FRP stair treads.
Looking for a metal stair tread? We also have other stair tread options available.
We are available 24/7. Call after hours (713) 705-5942
Advantages of FRP Stair Treads and Stair Tread Covers:
Easy Installation
Slip Resistant, Safe Surface
Durable and Long Wearing
Impact Resistant
Low Maintenance
Easy to Cut
Corrosion Resistant
Lightweight
Low Conductivity
Improves appearance
FRP Stair Treads and Stair Tread Covers Applications: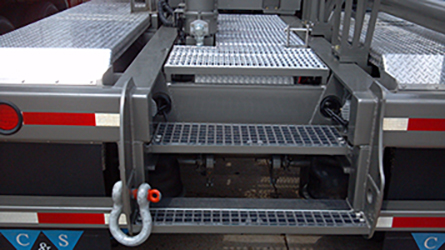 Amusement Parks and Water Parks
Hotels / Motels
Oil Refineries
Outdoor Stairways
Outdoor Sports Facilities
Restaurants
Food Processing Facilities
Power Plants
Water / Wastewater Treatment Facilities