Custom Expanded Metal Products and Materials
Our expanded metal products include standard expanded metal, flattened expanded metal and expanded metal grating.
Our metal materials include aluminum, carbon steel, stainless steel, and galvanized steel.
Expanded Metal Fabrication Services
Marco prides itself on being the top-notch metal fabricator in the Houston area. Our fabricating experts work with our client's drawings to create one-of-a-kind expanded metal products every day. Below are some of our capabilities:
Cutting, notching, cut-outs, and laser cutting

Rolling, stamping, and forming

Painting

Finished framed edge and degreasing

Finishing services available on large projects: powder coating, PVC coating, and aluminizing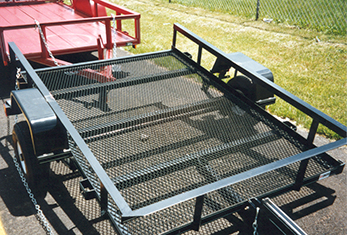 Expanded Metal Fabrication Finishes and Special Treatments
Mill Finish

Carbon Steel: lightly oiled and requires cleaning before final finish using acid or solvent bath with a water rinse
Aluminum: Clean with a non-etching chemical or detergent, then rinse and dry thoroughly (A wax or non-wax base cleaner can be used)

Hot Dip Galvanizing:

 

Protective coating of zinc; may have a rough uneven appearance. Not applicable to patterns smaller than 1/4"
Electro-Galvanized:

 

Zinc finish applied to sheets to provide weather resistance
Deburring:

 

Remove burrs and sharp edges by wire brushing 9"-72" SWD, 50"-150" LWD. Not all styles will be deburred
Leveling:

 

A plane of the sheet leveled without flattening strands or bonds
(Anodized, Coated, Painted, or Plated expanded metal is also available)
Expanded Metal Fabrication Industrial Applications
We provide custom expanded metal fabrication services for companies in a wide variety of industries, including oil refining, offshore drilling, heavy equipment manufacturing, and many others. Here's a partial list of the many applications for which we can provide a custom-fabricated expanded metal solution:
Floor grating and sidewalk grates
Non-slip platforms
Catwalks and safety grating walkways
Oil pan screens and air intake screens
Stud wall security screens
Chimney caps and ceiling panels
Hand railings on walkways and bridges
Drying racks
Security screens
Machine guards and hand protection in industrial workplaces
Expanded Metal Fabrication Architectural Applications
Would you like to see more applications? Check out our application photo gallery or our architectural photo gallery.
Custom Expanded Metal Fabrication
Marco Specialty Steel is an experienced expanded metal fabricator in Texas that will develop a functional, affordable solution for your company. We supply a variety of stock expanded metal products in numerous sizes and styles and in a choice of metals that includes copper, aluminum, galvanized steel, carbon steel, and stainless steel. In addition, we fabricate any stock expanded metal item in our inventory to create a customized product that meets your specifications.
Marco Is an Expert When It Comes to Cutting Expanded Metal
Expanded metal can be difficult to cut without the proper tools. Our fabrication department, located in Texas has all the necessary equipment for cutting expanded metal. We can custom-cut our flattened or raised metal products. Call us today to find out more.
We'll Complete Your Expanded Metal Fabrication Project Quickly and Efficiently
Located in Houston near one of the largest petrochemical refineries in the world, Marco Specialty Steel operates from a modern facility that includes a fully equipped metal fabrication shop. Our team includes highly skilled metalworkers who have the expertise and specialized equipment to custom fabricate a product to meet your requirements. If you have your own blueprints, feel free to submit them to us, and we will work hard to bring your design concept to life.
We Deliver First-Class Customer Service
When you choose Marco Specialty Steel for your custom fabricated expanded metal, you are served by a company that is committed to doing whatever it takes to achieve a successful outcome. It begins when you contact our friendly, knowledgeable sales personnel and continues through the design and production phase of your project.
We're known for our lightning-fast turnaround times on projects of all sizes and our close attention to detail from start to finish. You can also count on us for on-time delivery to your facility. No wonder so many architects, construction managers, and design professionals choose us for their custom expanded metal fabrication needs.
Get a No-Obligation Custom Expanded Metal Fabrication Project Quote
Learn more about what makes Marco Specialty Steel the best choice for your expanded metal fabrication project. Contact us for more information about our products and services — we'll be happy to discuss your customization requirements with you. We'll also provide a no-obligation quote for your project.
Marco Specialty Steel: Quality. Speed. Reliability.