Marco Specialty Steel is a leading supplier of heavy duty grating accessories. Browse our offerings below and contact us for any inquiries.
Heavy Duty Hold-Down Clip
G-90 Mill Galvanized
Item Includes: (1) Clip
Order Separately: 3/8" square-shank carriage bolts, nuts and washers
Also available in stainless steel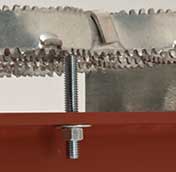 ---
Heavy Duty Walkway Splice Plate (30" Long) Kit
9 Gauge Mill-Galvanized Steel
Item Includes:
(2) Splice Plates
(32) 1/2"-13 x 11/4"Hex Bolts
(32) 1/2"-13 Hex Nuts
(32) 1/2" Washers
Walkway splice plates provide continuity when multiple lengths of Heavy Duty  Diamond Safety Grating walkway are desired. Connections are reinforced with the addition of splice plates attached to side channels.
Splice plates are formed from 9 gauge mill-galvanized steel, pre-punched and supplied with hardware shown above.
Torque to 40 ft.-lbs.
---
Heavy Duty Handrail Brackets
Handrail Brackets are available for application on Heavy Duty Safety Grating steel walkways. This is a valuable accessory for those projects where utilization of Heavy Duty diamond steel walkway is desired for its superior long spanability. Handrailing with handrail post on maximum eight foot center is required per OSHA. The Handrail Brackets eliminate unnecessary and costly substructure to support handrail post.
The assembly of Heavy Duty steel walkway with the handrail brackets has been tested as a proper moment connection for handrail post to standards as outlined in "OSHA" 1910.23.
Handrail Brackets come in two styles Universal Type and Clip Angle Type
Clip Angle/Handrail Bracket
Clip Angle/Handrail Bracket is designed for use with all types of Handrail Post; Pipe, Angle, Tube etc. Handrail Post may be mounted to Handrail Bracket with two 1/2" bolts and nuts (not included) to holes conveniently located, or by welding.
Handrail brackets are sold in plain non-finished steel but may be ordered in a hot dipped galvanized after fabrication finish. All hardware for mounting Handrail Bracket to Heavy Duty steel walkway is included.
Universal Handrail Bracket
Universal Handrail Bracket  is designed for use with pipe style handrail post (maximum 2" O.D.) which allows for simple installation of handrail post. Secure post by tightening two allen head set screws. Handrail bracket is sold in plain non-finish steel but may be ordered in a hot dipped galvanized after fabrication finish. All hardware for mounting handrail bracket to Heavy Duty Steel walkway is included.
Supplying All Your Grating Needs
Marco is proud to provide the most comprehensive line of safety grating products including Diamond, Perf Safety Grating, and Tread Grip with slip-resistant surfaces. We have a complete understanding of each product and its features and benefits so we can recommend the best solution for your company.
We are the number one go-to for grating products, therefore we also stock bar grating and fiberglass grating.
Contact Us Today
Contact Marco Specialty Steel to learn more about our extensive selection of stock and custom products and to receive a no-obligation quote.
Marco Specialty Steel: Quality. Speed. Reliability.